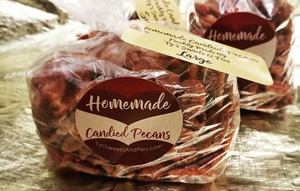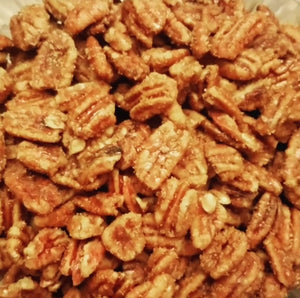 Very tasty treat
As you anticipate eating this sweet and spicy treat the first bite you are smiling and then the heat sneaks up on you and your tongue burns and you keep chewing because it's so good..... after 45 seconds the burning stops until you eat another one. Keep eating it and letting it burn because it's worth it....
Now for the regular sweet pecan, the first one has you hook to were you end up eating the whole bag in one setting. They are soooooo good you can't stop at one!!!!
Dee-licious!!
Great taste; great price!
I love them so much I hide them!
I love these candied pecans! I was introduced to them at an event where I got a sample bag ... which I didn't eat until after I got home! Couldn't wait to run into Thais to get some more! But the problem is, everybody else likes them too! Glad they're available online now so now I don't have to wait for an event, I only have to wait for the delivery!
Best Candied Pecans Ever!!!
My mom LOVES these pecans so much she didn't even share this time and I bought her a large bag!! They're just the right amount of sweet, full of flavor and roasted perfectly!!